"Tis' the season to be jolly"
India is a land of celebration. And it's that time of the year again when everyone in India is prepping up for Christmas. Every mall is decked up with Christmas tree, the sound of tinkling bobbles all around, and the sweet smell of plum cakes and candy wafting out of bakeries are tempting us all top turn this festive season into a merry fair.
Goa is the party hub of India. On Christmas, night long parties go on the beaches; cocktails are savored by the people for all night long, cathedrals are decorated with lights and flowers, and midnight mass in churches with little children singing melodious carols. One will get various options for fun and festivities in Goa during Christmas.

There is a misconception that North-East doesn't have a good place to celebrate Christmas. However, the matter of the fact is there are a large number of Catholic populations in Shillong. Christmas is celebrated here with great zeal and enthusiasm just like any other metropolitan city in India; and it often turns out to be the best Christmas in India.
As considered to be one of the party hubs of India, people are often tend to flock to Goa every Christmas. However

if you seek serenity, then you can take a trip to Kerala on Christmas and sing carols at the midnight mass, witness the Christmas play, indulge on some local feast or have a bonfire on the beaches for a more-than-merry experience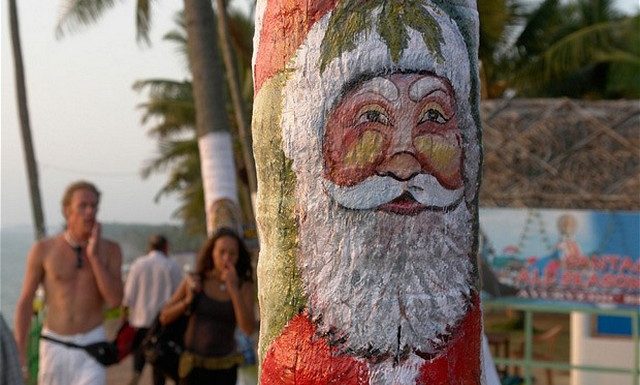 If you fancy all that we see on movies, then Mumbai is the place for you to be on Christmas. At the time of Christmas the streets of Bombay is illuminated with bright Christmas lights and props, and the delicious scent of fruit cakes and date rolls hanging in the air this Christmas.
Also known as city of joy, this city always celebrates every festival irrespective of their caste or religion. Light and sound exhibitions, rock and performances, glittering décor and heavy discounts on merchandise, you name it and Kolkata has it.
Plan your next trip to India at the time of Christmas and make sure to check out the above mentioned places for a vacation. However a visa is required in order to visit India. If you wish to apply for visa and avoid the queue, you can apply for e-visa with us.