India has been popular for its art and craft. It's unique, intricate eye-catching and expressive, each item has a story behind it. If you're planning to visit India and wish to collect some of the handicrafts, we have listed out some of the best places to buy handicrafts in India.
1.
Dastkar Nature Bazaar, Delhi
If you think Delhi Haat is the only place for handicrafts, we would suggest you to try your luck at this popular handicraft market in Delhi. It's located near Qutub Minar, Mehrauli Archaeological Park, for a wide variety of gorgeous handicrafts with a difference.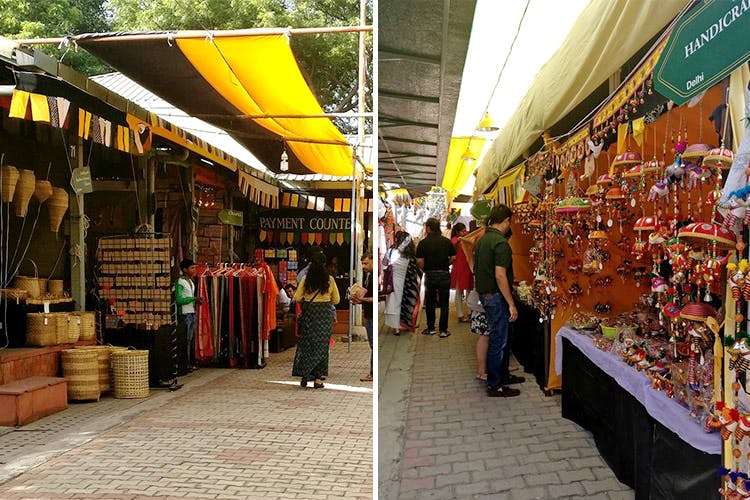 2.
The Colorful Masterpieces of Madhubani, Bihar
Madhubani paintings is one of the many famous Indian art forms. It's called Mithila or Madhubani art as it is practices in the Mithila region of Bihar and Nepal. Often characterized by complex geometrical patterns, these paintings are known for representing ritual content for particular occasions, including festivals, religious rituals etc. The colors used in Madhubani paintings are usually derived from plants and other natural sources.
3.
Saharanpur (Wood Works)
Situated in the states of Uttar Pradesh, Saharanpur, it's renowned for its wood carving industry. Some of the best wood carvers in the world works in Saharanpur. In this region of India, wood working expertise is passed on as a family tradition from father to son. Here items are made from the woods of the Sheesham, Dudhi, and Sal trees.
4.
Applique
and Metal Works, Orissa
Orissa has a huge industry of strong ethnic Indian handicrafts industry. It has carved out a niche for itself in the spheres of applique work, metallurgy and silver filigree. The technique of applique embodies artistically superimposing cut patches of cloth on top of, or alongside, each other. A base fabric is also used, which is normally very colorful. The use of tiny mirrors in such work is very common and provides a vibrant look to the end products. This form of handicraft is very popular throughout the state of Orissa.
5.
Terracotta Works, Assam
The word Terracotta has been derived from Latin and Italian words 'Terra'; in Latin which means "earth" or "soil" and in Italian means "statue". Thus Terracotta work is the art of creating statues / figurines from mud, clay or earth. Assam's terracotta handicrafts ear striking imprints of its ancient culture.