Diwali, also known as the 'festival of lights' is one of the biggest festival in India. It's a five day festival which honors the victory of good over evil, and it is also an occasion for prosperity and family togetherness. If you're planning to visit India, Diwali is one of the best times to pay a visit during the celebration.
In this article, we have listed out top 5 destinations to visit in India during Diwali.
Also known as pink city of India, Jaipur is one of the best places to visit during Diwali. During this time, the entire town is illuminated and every year a competition takes place for the best decorated and most brilliantly lit up market. It's a dazzling display that attracts visitors from all over the India.
In Goa the focus of Diwali celebration is on the destruction of demon Narakasura by Lord Krishna. At the time of Diwali, competitions are held in every village and city to see who can make the biggest and scariest figure. And these effigies are burn at dawn on Narakasura Chaturdashi, the day before the main day of Diwali.
Varanasi is a beautiful city in India, no matter what time you visit the city. However, it becomes even more beautiful at the time of Diwali with a constant stream of firecrackers and fireworks going off all night. To get the best experience of Varanasi, try to get a riverside hotel in Varanasi.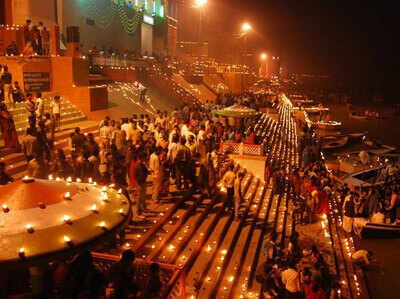 If you're planning to visit India from abroad during Diwali, it is highly recommended that you stay at an Indian home so that you can be a part of traditional Diwali family rituals and get a real insight into Indian culture.