Goa is a popular tourists spot. It is famous for its beaches; however it offers a lot more than that. Beaches here are so hyped that it overpowers other must visits during a trip to Goa. In order to understand a city completely, it is important to visit the less touristy places.
Here are top 10 must visit places and offbeat places in Goa:
1.
Pay a visit to Divar Island
Just imagine stepping out off the ferry from old Goa onto beautiful little riverine Divar Island; sounds magical right. This island is surrounded by marshy waters and crisscrossed with sleepy single-lane roads, the island makes for lovely, languid exploration, and though there's not much particularly to see, however, it's a serene and seldom-visited place to take in the atmosphere of old-time rural Goa.

2.
Traverse through the Goan Markets
Goa's flea markets and night bazaars has a different charm. If you're in Goa, you should definitely experience these markets to get a feel of true Goan spirit. Some of the popular flea markets are Anjuna flea market at Anjuna beach, Mapusa market, and Calanguta and Baga market.
3.
Visit Portuguese Houses in Goa
Goa is full of Old Portuguese houses and some of these have existed there for the last four centuries. Portuguese started building houses there as soon they conquest the Goa in the 16th century and built till they left in 1960. Most of these houses have ceilings nearly as high as 30 feet with a fireplace in every room and a big backyard. Portuguese houses have an interesting fusion of Indian and European architecture. The window designs and interiors of these are beautifully designed and that's what makes them unique and charming at the same time.
Most of the forts of Goa are located at seashores. And these forts are mostly built on high cliffs and scenic beauty that surrounds these forts is one of the main attractions for the visitors. Goan forts were built by Mughal and Portuguese rulers in last few centuries. These forts are spread from north to south of Goa on the coastline. Few of the most important forts are Chapora fort, Cabo de Rama fort, Reis Magos fort, Tiracol fort etc.
Goa is a laidback town and its villages and country sides have a lot of greenery and there are a number of ancestral houses with large fields stretched on both sides of roads. In order to experience the rural Goa, travel away from the beaches and drive to the interiors of Goa for the taste of its culture. The rural houses of Goa has few coconut and cashew trees and have some or the other pet animals or roasters. The roads in villages may be narrow but the conditions of the roads are good.
In Goa, fishing is considered to be a sport. However, it is different from professional fishing and it is more like a recreational activity. One can enjoy it alone in peaceful and relaxing surroundings without doing a party or by going somewhere. There are some areas in Goa, which are best for sports fishing because of they have condone of these places which are dedicated for fishing.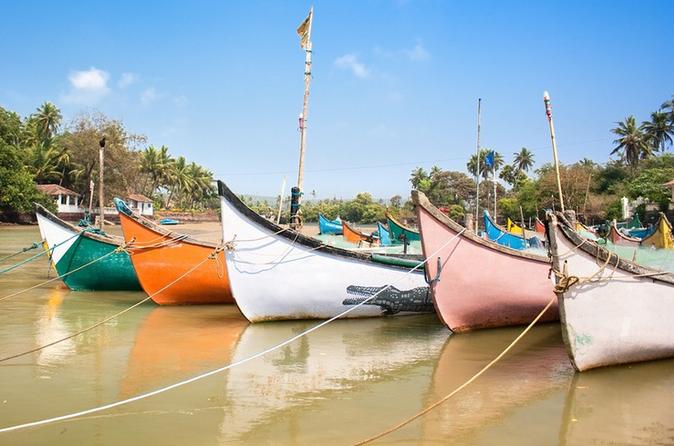 When in Goa, join a cookery class to learn the art of Indian cooking in Goa. In Goa, there are many cooking schools and classes. Here they organize Cookery Workshops and Culinary tours apart from regular classes for the traveler visiting Goa. These classes introduce you to the different spices used in Indian food, also take you to local farmers and fish markets, teach the art of making Indian masala and curries, and making of Indian bread. These cooking classes are available for the different duration depending upon the interest.
8.
Visit Bigfoot – Ancestral Goa Museum
Big Foot which is also known as The Ancestral Goa museum is a museum which is situated in the small village of Loutolium. This private museum depicts the day – to – day life of native Goans in earlier days with the help of statues and models. There is an entry ticket to it and a guide will take you around to the different places in the museum.
Backwaters is associated with Kerala backwaters, however not to forget Goa also have backwaters though comparatively much smaller. There are few backwater tours available in Goa; one of the tours is run by Goa tourism and there are other tours by private operators.
10.
Paddle Boat on Mayem Lake
Mayem Lake is a beautiful lake which has freshwater and situated near Bicholim in North Goa. It is one of the places where you can enjoy the paddle boat in Goa. The Mayem Lake is surrounded by thick plantation and there are
plenty of trees around it
. The lake is a popular spot for bird watching as many birds have nested on the shores of the lake. There is a tourism board's resort and some food shops around lake otherwise, it is still a sleepy village around the lake.

Plan your next trip to India and leave the Visa on us. We provide e-Visa to India which is an electronic visa application procedure. For information visit our website i.e. www.indiaonlinevisas.org.in/